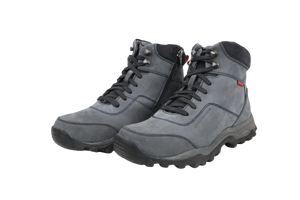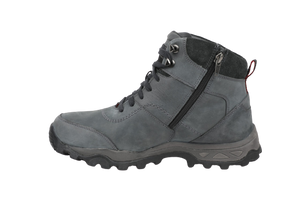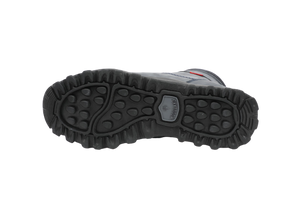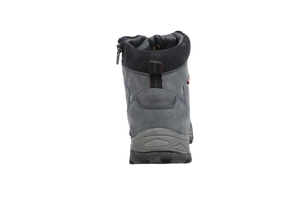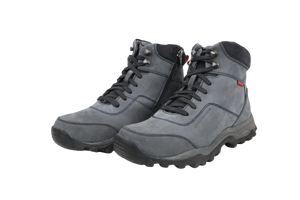 Original Woodland Men's Leather Boots (#3111118_Castor Grey)
Product Features 
GENUINE LEATHER BOOTS FOR MEN: These stylish casual boots feature a genuine cow leather upper and comfortable leather sock liner for durability and a softer feel. Material: Upper: Genuine Leather ; Lining: Leather + Woolen Fur ; Socks: Woolen Fabric ; Sole: Rubber/Phylon.
DURABLE TPR OUTSOLE: Designed as comfortable casual boots for men, these Hiking, Climbing, Trekking, Casual boots include a thermoplastic rubber sole to provide a more traction on any surface.
VERSATILE SILHOUETTE FOR EASY STYLING: These casual boots offers both lace and ziper closure, a timeless design that makes them versatile enough to wear with anything in your wardrobe from jeans to outdoor gear pants.
WEAR THESE HIKING, CLIMBING, TREKKING, CASUAL BOOTS S ANYWHERE: The everlasting style and comfortable fit and feel ensure our men's Hiking, Climbing, Trekking, Casual boots s complement any adventure or day out. These boots are Water Resistant, Anti Slippery and Warm. You would love the warmth at night on your outdoor adventure.
FINISHED WITH STYLISH DETAILS: Combining fashion and function, these comfortable boots for men are finished with a full grain high quality leather. Made in state of the art factories, Woodland keeps and maintains high standards in all areas of operations, from its expert in-house manufacturing facilities, to its innovative construction through extensive research and development, technologically advanced materials and commitment to sustainability and environmentally friendly operations.
Product Details
Genuine Leather Hiking, Climbing, Trekking, Casual boots for Men that Put Comfort First
If you're searching for a shoe that's comfortable, durable and stylish, take a look at the Woodland Genuine Leather Men's Hiking, Climbing, Trekking and Casual boots by ENAAF. These Hiking, Climbing, Trekking, Casual boots are crafted with genuine cow leather for both the upper and the liner to provide durability and a comfortable fit and feel. The solid thermoplastic rubber (TPR) outsole offers added traction and durability, so these genuine leather boots are a top choice for everyday wear whether you're going to adventure trips, Winter adventures in snow or spending the day on your feet while exploring outdoor.
Classic Design Provides Versatile Wear and Easy Styling
These comfortable Hiking, Climbing, Trekking, Casual boots for men have a timeless design that's easy to dress up or down depending on the event or adventure. They look just as good paired with camping gear as they do with jeans, making them a versatile addition to your everyday outdoor wardrobe. These Woodland Hiking, Climbing, Trekking, Casual boots for men can also be worn with Casual dresses to give your party wear a polished finishing touch. The adaptable style and super comfortable fit mean these Hiking, Climbing, Trekking, Casual boots also pair well with more Casual dresses for a day out adventure with the friends or at other Casual boots events.
Expected delivery:
3-6 business days
Return policy:
Returns and exchanges are free, one time, within 30 days of the purchase date. The product must be in original and unworn condition, with tags still attached, and must also include the original box. For more details, visit our Return & Exchange policy.